The Global IP Awards 2023 
The Global IP Awards was held on 19 October 2023 in Plaisterers' Hall, London.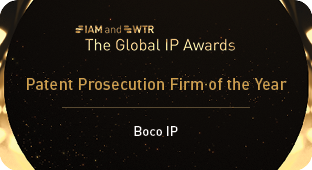 IAM and WTR announced the winners of its 2023 Global IP Awards. The Global IP Awards recognises the outstanding achievements of law and attorney firms in patent and trademark work. Boco IP won the title Patent Prosecution Firm of the Year for Finland -award. European Patent Attorneys Christian Westerholm and Jaana Hämäläinen were present in the Gala.
According to IAM: "The list of winners serves as a reminder of the exceptional depth of IP legal expertise available to corporate teams as they seek to protect and monetise their IP the world over.
With full-time journalists and dedicated researchers based in Europe, the US, and Asia, IAM and WTR are uniquely placed to provide in-depth reporting and analysis of developments in all the world's major IP markets. Based on their collective knowledge and insight, and drawing on a number of strategic data points, the firms that deserve recognition for their achievements across the past 12 months were identified – and then celebrated at a special event held at Plaisterers' Hall, London."
Trevor Little, IP Managing Editor, stated that on 19 October we recognised "the outstanding achievements of law and attorney firms in litigation, prosecution, and transactional work during 2022/2023. In total, we have identified 169 awards winners across 80 jurisdictions. That sounds like a lot, and it does illustrate the depth and spread of IP expertise available to corporate teams the world over."